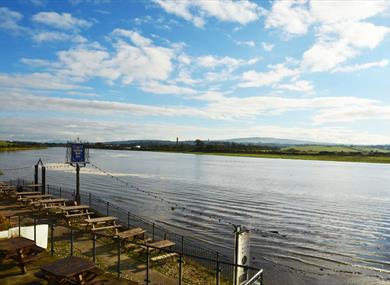 The Golden Ball at Snatchems, on the bank of the River Lune, has been serving refreshment to travellers since 1650! Cool and refreshing in summer or warm and cheerful in winter, this has long been a place of peaceful sanctuary from a crazy world.

From the mid seventeenth century a hostility has been sited on the edge of the river, some suggest the high tides aided smugglers, other say fishermen used the pub. The local name of snatchems stems from the pressgang days when tall ships set sail from the port of Lancaster they would send a boat over to the pub and make up any short fall in man power from 'Snatching' who they could.

The pub still offers small original snug rooms, real log fire, low oak beams and much more interesting artefacts. Food is served all day from 10am till 8pm, real cask ale and a generous selection of other fine wines and beers are also available.

A large function/dining room has been added in recent times and takes advantage of the views, this room is available for functions and conferences.
Information