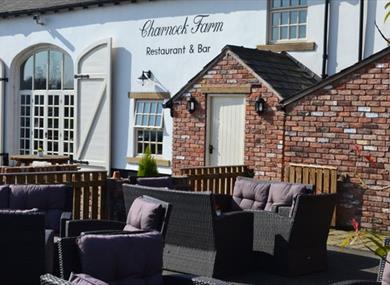 Situated in the historic area of the Charnock and Leyland countryside in well manicured surroundings the farm makes a pleasant and relaxing location to enjoy an afternoon beer, coffee or tea on the terrace. Definitely a place for all seasons even when the weather isn't so clement, the wood log fire will welcome you into a warm and cosy atmosphere, ideal for those autumn and winter months.

Food is served throughout the daytime under the creative guidance the head chef, teasing with a exquisite home cooked menu and regular specials to suit every taste. It's not all for the adults, catering for all ages and children are always welcome. Spacious and airy, the restaurant at Charnock Farm surrounds you with elegance while keeping faithful to the original décor of a building of its age with exposed solid oak beams and a brick fireplace.

All produce is fresh and sourced from local outlets and suppliers to ensure top quality food when dining at Charnock Farm Restaurant and Bar.

Any special dietary requirements, or requests for special dishes you would like to be produced, just give 24 hours notice and they will do their best to prepare it.
Information