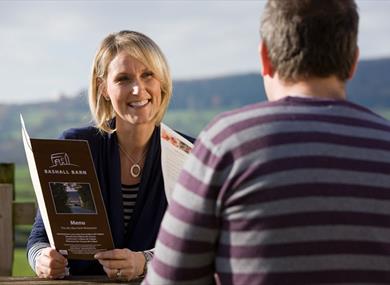 Bashall Barn is so much more than a restaurant and farm shop.

Enjoy panoramic views across the Ribble Valley, meet one of the smallest scale honey producers in the county, watch the brewing process of a micro-brewery or peep inside the cow maternity wing from the ice cream parlour – from where you have got to treat yourself to some yummy home-made ice cream of course!

Bashall Barn was awarded best on-farm restaurant award from the National Farmers' Retail & Markets Association (FARMA) in February 2010 for its innovative and exciting food offer.

Bashall Barn Food Visitor Centre now is now offering great new food hampers, stylishly presented in a black box with matching bow but they can be VIP red ribboned if desired! You can either browse for the items yourself in the farm shop or choose a ready made hamper, whose range offers 'his' hampers, including beer and hot chutneys from the on site artisan producers, while the 'her' hamper incorporates a bottle of wine, chocolate and 'more ladylike' chutneys! Hampers come in small (£20), medium (£40) or large (£60) and are postable. Please telephone for postage costs.