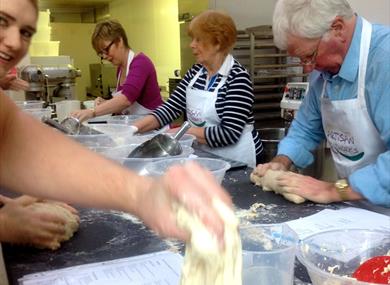 Based on Burscough's Trading Estate, at the Merlin Park business development, artisan breads are produced by following the key principles of The Bread Campaign, pies including hot water crust pork pies, quiches and handmade cakes for retail and wholesale sales.

Artisan Foodworks also offer a range of bakery classes that are full day, hands on classes including lunch, refreshments with homemade cakes and you get to take home all the items you have made. Classes include:

• Real bread making for beginners
• Mastering sourdough
• Croissants, Danish Pastries and sticky buns
• World breads
• Beyond the loaf
• Christmas breads special
• Mastering pies and pastries

The kitchen and training areas have been professionally fitted out to the highest quality of hygiene, safety and workflow. All of the classes are listed on the webpage and you can either book online, email or telephone.

Artisan Foodworks also offer consultancy services, with recent clients being Sefton Metropolitan Borough Council and Merlin's Bakery Café.

Products:
All of the breads are made using traditional slow fermentation techniques to develop a deeper flavour and improve shelf life and many meet the requirements for vegetarians and vegans. Some of the breads use 'wild yeasts', such as the sourdoughs.

Pies are made using traditional methods such as hot water crust pastry on pork pies, also producing turkey, bacon and cranberry pies, pork and apricot and pork black pudding and cheese. Using the finest ingredients from farm assured producers and using no unnecessary processing aids.

Cakes and tray bakes are handmade, again using the best ingredients without unnecessary processing aids.
You can order or purchase online through the website. Alternatively, a range of products can also be purchased from Merlin's Bakery Cafe, Unit 707, Merlin Park, Burscough between 8:00 and 16:00, Monday to Friday, where you can also stop for a quality coffee, tea or infusion or the lunchtime special or a sandwich made on artisan bread.

The Soil Association Certification confirm that Artisan Foodworks are able to meet the key criteria for the Food For Life Catering Mark as the products are free from problem additives, GM or trans fats and can be used on Bronze, Silver and Gold Catering Mark menus. The meat in the pies comes from Farm Assured Standard suppliers and the breads can count towards the 75% freshly prepared requirement. For more information please the email the Foodworks.