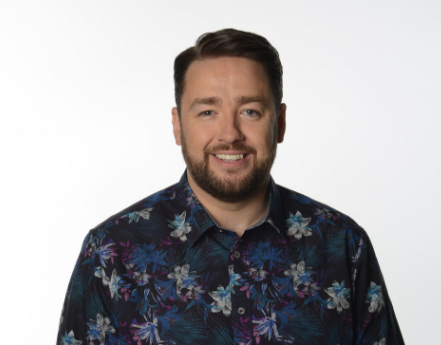 Livewire Festival has announced that the Thursday evening slot will be a celebration of British Comedy, with Jason Manford, Alan Davies, Mark Watson and Chris Ramsey all performing next to Blackpool's now iconic 'Comedy Carpet'.
A representative from the Livewire team stated "this is the first time we've had comedy at the festival, and there's no better place to host it than right by Blackpool's iconic Comedy Carpet. At Livewire we're always trying to bring some of the biggest names in entertainment to Blackpool, and we feel like we've definitely succeeded with this incredible line up."
Local Lancashire lad Jason Manford is hot off his highly successful 'Muddle Class Tour' which explored Jason's life growing up 'working class', then finding that as he's got older, part of him has become 'middle class', causing much confusion! This massive tour garnered him both great critical and commercial success.
Much lauded as resident dunderhead on QI or the charming but reticent crime solver Jonathan Creek, Alan Davies' virtuosic story-telling and whip-smart funny bones combine to make his performances one not to be missed, with The Guardian naming him as "one of the best Stand-up comics out there."
Mark Watson has been a staple on British Television screens throughout his career, with multiple appearances on 'Mock The Week', 'Taskmaster', 'Have I Got News For You', 'Would I Lie To You' and 'Live At The Apollo', where his stand up skills shine. The Times describes him as 'terrifyingly funny' and his latest show 'I'm Not Here' received 4 and 5 star reviews.
Chris Ramsey is one of the most exciting comedy acts today. His high-energy delivery, hugely engaging manner and off-the-cuff style have cemented him a place as regular face on entertainment shows such as Celebrity Juice Never Mind the Buzzcocks, 8 Out of 10 Cats, Sweat the Small Stuff and Virtually Famous.
More information regarding the other headline acts will be released over the coming weeks.
Current headliners:
THURSDAY 22nd - Comedy On The Carpet (TICKETS)
FRIDAY 23rd - TBA
SATURDAY 24th – Ms. Lauryn Hill (TICKETS)
SUNDAY 25th – 'From Movies To Musicals (TICKETS)

MARK WATSON
Edinburgh Festival Award Winner and Time Out Critic's Choice, Mark's recent TV credits include Taskmaster (Dave) and Bear Grylls' Celebrity Island (Channel 4).
Mark has been the face of shows such as BBC Four's We Need Answers and BBC Radio 4's Mark Watson Makes The World Substantially Better. He has also appeared on Mock The Week, Celebrity Pointless, Have I Got News For You, Would I Lie To You?, Live At The Apollo and Channel 4's Comedy Gala. He is currently recording another series of his hit Radio 4 show Mark Watson Talks A Bit About Life.
In August 2016, Mark performed his latest show I'm Not Here at the Edinburgh Festival, and then went on to tour it around the UK from September – December 2016. The show has received 4 & 5 star reviews.
Not only a Stand-Up, Mark has written six novels: Bullet Points (2004), A Light-Hearted Look At Murder (2007), Eleven (2010), The Knot (2012), Hotel Alpha (2014), and The Place That Didn't Exist (2016).
'Terrifyingly funny' - The Times
'Belly laugh brilliant… The audience was weeping with laughter' - Time Out
JASON MANFORD
Jason Manford hails from Salford, Lancashire. He is a stand-up comedian, writer, actor, radio and television presenter. He began his career in 1999, while working at the Buzz Comedy Club in Chorlton, Manchester. Jason was collecting glasses when a performer didn't arrive for an evening set. Jason, who was 17, stepped in to fill the gap, an event which marked the beginning of his comedy career. Six gigs later he was crowned The City Life North West Comedian of the Year.
After winning several smaller awards, Jason was nominated for the Perrier Award in Edinburgh in 2005 for his show 'Urban Legends'. He shot to stardom as team Captain on Channel 4's, '8 out of 10 Cats' in 2007. Following his UK tours in 2008 and 2009, stand up sets on 'Live at the Apollo' (BBC One), 'Michael McIntyre's Comedy Roadshow' (BBC One) and 'The Royal Variety Performance' (ITV1, 2009) have all helped establish Jason as a nationally known comic, a position which made him the ideal host of ITV's reality comedy competition, 'Show Me The Funny'.

A second series of his hilarious creation 'Walk on the Wild Side' (BBC One) aired in 2010. Jason has also hosted 'Comedy Rocks with Jason Manford' (ITV1). He was a regular panelist on two series of 'Odd One In' (ITV1).

Jason took his 'I'm Turning Into My Dad' tour across the UK in 2010, including a five night run at the Edinburgh International Festival that summer. He then went back on tour in 2011 with 'Off On Tour We Go: Jason Manford Live'.
After his opera singing turn saw him emerge the winner on Born To Shine (ITV1) Jason put his new found talent into practice joining Alfie Boe on tour. This was followed by a well-received run in the critically acclaimed hit West End musical Sweeney Todd, starring Michael Ball and Imelda Staunton. He hosted ITV's 'Funny Old Year' on New Year's Eve 2013, giving his unique and personal take on everything from television to sport, from the gaffes to the feuds and the trends of the year.
Jason toured the UK with his 'First World Problems' show which took him to all corners of the British Isles which started in May 2013, performing more than a staggering 200 shows. First World Problems was released on DVD in November, 2014 and the tour finished in December 2014.
In April 2014 Jason appeared alongside Shameless star David Threlfall in ITV1's drama based on the life of Tommy Cooper, 'Not Like This, Like That'. Jason hosted a brand new series on BBC One, 'A Question of Sport: Super Saturday' throughout June 2014. In September 2014, the illustrious 'Sunday Night at the Palladium' returned to ITV and saw Jason as one of the guest hosts. He has also enjoyed appearances on 'QI' (BBC Two), 'Big Fat Quiz of the Year' (Channel 4), 'Comedy World Cup' (Channel 4) and 'Lip Sync Battle UK' (Channel 5).

Jason starred in 'The Producers' as timid accountant, Leo Bloom. The show is based on Mel Brooks' beloved Academy Award winning movie. The hilarious musical comedy which has taken Broadway and the West End by storm, opened in March 2015.
In March and April 2015, Jason starred in the BBC One six part drama series 'Ordinary Lies' with co-stars Max Beesley, Michelle Keegan and Mackenzie Crook. For his role as downtrodden car salesman Marty, he was nominated for 'Best Actor' at the Royal Television Society Awards.
Following three successful end of year specials of 'Funny Old Year', Jason went onto host 'Funny Old Week' for ITV throughout July 2015.
Jason then hosted 'The Money Pit' on Dave (UKTV), where ordinary people decide whether or not to invest their own money on a variety of projects on the show in return for a share in the company or a special reward.
In July to November 2015, his 'Best Of' live show toured the UK. Jason wrote a comedy-horror show called 'That's The Spirit' for Sky1, which aired Halloween 2016. He starred in this alongside Rebecca Callard, Imogen Gurney and Brenock O'Connor.
Jason took to the stage in February 2016 to star as Caractacus Potts in the UK critically acclaimed tour of 'Chitty Chitty Bang Bang' for a 12 month run. Jason hosts a live three hour show on Absolute Radio each Sunday morning with celebrity guests and his own comedic take on the topics of the week. His show receives huge ratings and is very popular with audiences across the UK. In 2017, Jason was nominated for Best Music Presenter at the ARIAS, run by The Radio Academy. Earlier this month, Jason was nominated in the Funniest Show category at the 2018 ARIAS. The show holds the Sunday morning record for pulling in the most listeners in that slot since the station was launched in 2001.
2017 was non-stop for Jason. After finishing Chitty in February, he went straight into hosting a brand new Sunday night primetime TV game show called Bigheads. The series began April 2017 on ITV1 and ran for six weeks. In September that year, Bigheads won Best TV Game Show at the prestigious
Rose d'Or Awards in Berlin. Jason was nominated for Best Entertainment Presenter for Bigheads at the National Television Awards, while the show itself was nominated for The Bruce Forsyth Entertainment Award. April also saw Jason present the prestigious Olivier Awards (ITV1), before jumping into hosting duties for week seven of The Nightly Show (ITV1). He also made a guest appearance in the new series of Benidorm (ITV1).
In October, Jason released his debut album of musical favourites 'A Different Stage' on Decca Records. The record ranges from show tunes he has performed in the past, to songs that are close to his heart and some of his childhood favourites. The album reached the Top 10 in the UK.
In January 2018 Jason took to the road for his mammoth year-and-a-half long 'Muddle Class' UK tour, which explores Jason's life growing up 'working class', then finding that as he's got older, part of him has become 'middle class', causing much confusion!

In October 2018, Jason trod the boards once again, this time as Nathan Detroit in Guys and Dolls at the Royal Albert Hall, London.
Towards the end of 2018, Jason filmed the Christmas special of his prime time ITV1 show, 'What Would Your Kid Do?' and a second series, which will TX in March 2019. The series sets the challenge for parents to guess how their kids will react in a variety of different situations, as child development psychology merges with an entertaining game show.
December saw the release of a special Christmas episode of Jason's Cartoonito children's show 'Daisy & Ollie', which saw a special guest appearance from Take That's Gary Barlow performing a song.
2019 sees the continuation of Jason's hugely successful 'Muddle Class' UK tour, and later in the year star in Scarborough, a new BBC1 sitcom written by Benidorm creator Derren Litten.
In September this year, Jason will return to musical theatre to star in the hilarious whodunnit 'Curtains' as Frank Cioffi, which will tour the UK.
In what spare time he has, Jason runs Manford's Comedy Club with his brother Colin. Since the launch over two years ago, Manford's Comedy Club has gone from strength to strength and have booked over 260 comedians to entertain more than 40,000 people in 57 different locations across the country. From Holiday Parks to Art Centres and from bustling City Centre Nightclubs to quiet out of town theatres, Manford's Comedy Club has delivered a lot of laughs to a lot of people.
Jason supports Manchester City FC and has a season ticket with his dad and three brothers. He cites Billy Connolly as the first comedian he saw when he was nine years old, and as the first inspiration for him to become a comedian. He has a love for family friendly entertainers including Eric Morecambe, Tommy Cooper and Les Dawson.
Chris Ramsey
Chris is one of the most exciting comedy acts today. His high-energy delivery, hugely engaging manner and off-the-cuff style have cemented him a place as regular face on entertainment shows such as Celebrity Juice (ITV2), Never Mind the Buzzcocks (BBC Two), 8 Out of 10 Cats (Channel 4), Sweat the Small Stuff (BBC3) and Virtually Famous (E4). As well as these, Chris has appeared on Drunk History (Comedy Central), Celebrity Squares (ITV) Benchmark (C4) & Time Crashers (C4). Chris has also starred in two series of the popular BBC Two sitcom Hebburn.
"Ramsey has the potential to be a mainstream hit, a cult favourite or almost anything in between"
Stephen Armstrong, The Sunday Times
"Frighteningly talented… tearing up every stage he lands on" James Mullinger, GQ.
Alan Davies
Much lauded as resident dunderhead on QI or the charming but reticent crime solver Jonathan Creek, Davies virtuosic story-telling and whip-smart funny bones combine to make this a show not to be missed.
"One of the best Stand-up comics out there…. packed with deft silliness and shrewd observation" The Guardian
Age recommendation 16+
Related
0 Comments