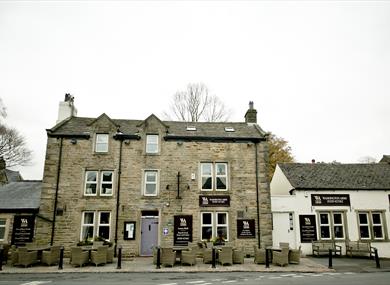 Welcome to the Waddington Arms, a contemporary country inn.

Standing in the middle of the village from which it takes its name The Waddington Arms is very much at the heart of life in the fabulous Ribble Valley.

It is the perfect place to eat, to drink, to sleep and most important for a village inn, it is also the perfect place to meet, relax and catch up with friends old and new. People tell us that it doesn't look too bad either.

On the bar we have hand drawn cask ales, continental lagers and a famous Irish stout. Pretty much the standard fare for a country inn you might think, but then, take a look at our wine list … twenty six bottles individually selected by our wine merchants, the almost world famous Byrne's of Clitheroe, mostly available by the glass and you'll notice the difference.

If you've travelled a long way, fallen in love with the village and the way of life, or if you simply overindulged, we have a choice of six individually decorated and furnished en-suite bedrooms.

Bed and Breakfast is reasonably priced from £65 per room. We don't have any formal Long Stay or Dinner, Bed and Breakfast packages, but we are always happy to have a chat about these things.

A superb menu, featuring many local rural specialities, is complemented by an ever – changing specials board, offering dishes with a more exotic touch. There is also a light bites menu for those hungry, in – between meal moments, or for those of a healthier disposition. Food is served Monday to Friday Noon 'til 2.30pm and 6.00 'til 9.30pm. At weekends and Bank Holidays we stretch to serving food all day from Noon 'til 9.30pm.