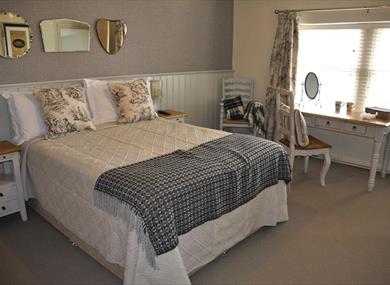 Nestled beneath Waddington Fell and open moorland, Waddington is surely one of the most idyllic villages in this unspoilt corner of rural Lancashire.

The Higher Buck, previously known as The Buck in the Vine in the 19th century, occupies a prominent position in the middle of this quiet settlement. Boasting a traditional informal pub atmosphere with some modern tasteful touches, the inn now offers excellent food and seven beautifully appointed and individually furnished bedrooms. Whether you just want a drink, a snack or a great meal, you can be sure you'll get a hearty welcome.

The seven bedrooms, each one uniquely furnished, offer modern facilities as you would expect of a fine country inn. Some of the bathrooms have roll-top baths and all have state-of-the-art showers.

Soft furnishings and fabrics have been specially selected to help make your stay comfortable and luxurious. Round this off with a full English country breakfast and you'll need one of those brisk walks round the beautiful village to work it off.
Reviews