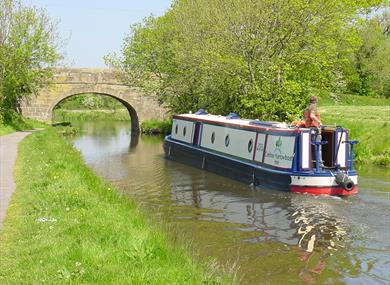 The perfect antidote to modern life - relax and unwind on the beautiful 42 miles of tranquil, lock-free Lancaster Canal on the most contemporary of narrowboats. Relax and slow down as you see the countryside from a totally different angle. Your biggest decision each day is whether to moor by a waterside pub, or explore the normally hidden delights of the towns and villages on your route.

Crabtree Narrowboat Hire is a small and friendly family-run narrowboat hire company based on the idyllic Lancaster Canal in the heart of Lancashire. Ours are not your average narrowboats, but superb examples of the boat builder's art! We currently operate 3 boats from our base at Barton Grange Marina. "Willow" is a 44 foot boat, "Mulberry" a 57 foot boat (both were new in 2012) and "Linden" (another 44 foot boat) arrived in May 2013. All our narrowboats are superbly equipped; each boat in our narrowboat holiday fleet has been assessed and awarded 5 stars by Enjoy England - the national tourist board for England. We are the only narrowboat hire company on the Lancaster Canal to have been presented with this prestigious award. If you haven't tried a canal holiday before please rest assured that you will find a warm welcome with Crabtree Narrowboat Hire.

We offer full instruction on the operation and handling of the boats at the start of your holiday thus enabling the expert or complete novice to enjoy their boating experience. We will take time to introduce you to the boat, advise you on the routes, mooring places and pubs (!). You will be accompanied as you set off on your cruise to ensure that you are comfortable with handling the boat. We want you to enjoy your holiday with us, and you will be more likely to do that if you are confident about coping on the canal.

Whether you're looking for a family holiday with a difference or you just want to unwind and take life at a more tranquil pace, your boating holiday with Crabtree Narrowboat Hire on the beautiful lock-free Lancaster Canal offers you a different perspective on life and the world around you. All our narrowboats are 5 star boats with a 5 star service to match - time and care is taken to ensure that your hire lives up to and exceeds your expectations.

Information