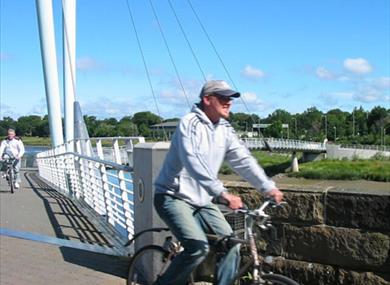 The River Lune Millennium Park stretches some 15km along the banks of the Lune from Bull Beck near Caton to Salt Ayre in Lancaster.

It offers leisure and everyday transport opportunities with linked footpaths and cycleways, and the route is decorated with unusual and thought provoking artworks to discover and information points. At its heart is the recently constructed Millennium Bridge for cyclists and pedestrians.

The pathway between Lancaster and Caton is a good way to see some interesting features on and around the river. The River Lune is noted for its salmon and September and October are the best times to see them, along with the many sea trout which are also to be found in the river.

The Environment Agency monitors fish stocks and movements and in 1996 over 2,000 salmon and sea trout went over Forge Weir. In the 1960's a disease hit salmon nationally and, whilst local stocks have still not fully recovered, the number of salmon is rising steadily. Over 13,000 fish are now recorded annually in the Lune.